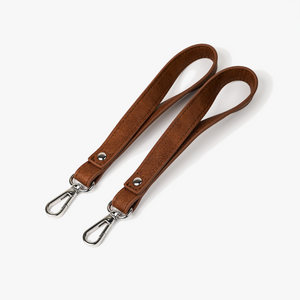 Offering parents chic on-the-go convenience, a set of VANCHI Leatherette Pram Clips will add effortless style to your pram or stroller, whilst keeping you and your essentials organised and close by. Keep these handy, yet stylish clips attached to your pram handle bar so you can simply clip, and go!
Product Details
Designed to compliment your VANCHI Nappy Bag (optional)
Made from 100% Animal/PVC free pebbled leatherette
Guaranteed to fit – the easy to use velcro system can attach to any pram with a single cross-bar
Water resistant lining for easy care
Designed in Australia
Please Note:
This listing is for 1 pair of pram caddy/nappy bag clips only. Pram Caddy/Bag is not included.
Pram Clips are an optional extra. All VANCHI Nappy Bags come with an adjustable shoulder/pram strap (unless stated otherwise). All VANCHI Pram Caddy's now come with matching leatherette pram clips.
Caution by the user should be exercised to ensure you do not over load your pram which could result in tipping. This product is not a toy and children should not be allowed to play with it.
How to attach